OBD / OBD2 scanner the same as a Diagnostic tool and history behind them?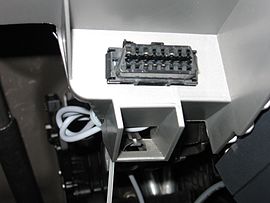 The short answer is NO as we know OBD protocol was developed only for emmisions in the States. Under the OBD / OBD2 / EOBD protocol we have about 10 different sub protocols. This was implemented as far back as 1996 in California where every car sold in that state required a diagnostic port to check emmissions.
As OBD / OBD2 scanners will only scan engine codes and reveal emmission errors as they occure because that is what it was designed to do….   No transmission, aircon, body control, radio, etc will be able to be scanned with this tool. Therefore one finds them always at a very cheap price on the internet because they only do half the job.
So bottom line is one cannot compare a OBD scanner to a multi Brand, multi system tester and one can see it in the price.
Below it the Basic Pin Out of the socket:                          
1
Manufacturer discretion:

·         GM: J2411 GMLAN/SWC/Single-Wire CAN[22]

·         VW/Audi/BMW: Switched +12V to tell a scan tool whether the ignition is on.

·         Ford, FIAT: Infotainment CAN High[22]

9
Manufacturer discretion:

·         BMW: TD (Tachometer Display) signal aka engine RPM signal.

·         GM: 8192 bit/s ALDL where fitted.

2
Bus Positive Line of SAE J1850 PWM and VPW
10
Bus Negative Line of SAE J1850 PWM only (not SAE J1850 VPW)
3
Manufacturer Discretion:

·         GM: Object Detection CAN bus (+)

·         Ford: DCL(+) Argentina, Brazil (pre OBD-II) 1997–2000, USA, Europe, etc.

·         Ford: Medium Speed CAN-High[22]

·         Chrysler: CCD Bus(+)[22]

11
Manufacturer Discretion:

·         GM: Object Detection CAN bus (-)

·         Ford: DCL(-) Argentina, Brazil (pre OBD-II) 1997–2000, USA, Europe, etc.

4
Chassis ground
12
Manufacturer discretion:

·         GM: Chassis high-speed CAN bus (+)

·         GM: Diagnostic codes to DIC (1994–2004 Corvette)[21]

5
Signal ground
13
Manufacturer discretion:

·         GM: Chassis high-speed CAN bus (-)

·         Ford: FEPS – Programming PCM voltage

6
CAN-High (ISO 15765-4 and SAE J2284)
14
CAN-Low (ISO 15765-4 and SAE J2284)
7
K-Line of ISO 9141-2 and ISO 14230-4
15
L-Line of ISO 9141-2 and ISO 14230-4
8
Manufacturer discretion:

·         BMW: Second K-Line for non OBD-II (Body/Chassis/Infotainment) systems.

·         Ford, FIAT: Infotainment CAN-Low.

16
Battery voltage:

·         Type "A" 12V/4A

·         Type "B" 24V/2A